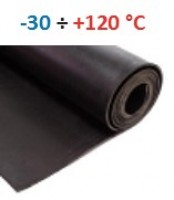 Application and use:
High Neoprene content.
Self-extinguishing type according to UL 94 V2 Standard.
High resistance to ozone, atmospheric agents and ageing. Fair resistance to sea water.
Good resistance to solvents and low concentration acids. Suitable for different but concurrent requirements.
On request the UL 94V0 fire resistant version can be produced.
UL 94 V2 Self-extinguishing
Atmospheric Agents
Solvents
Sea water
Low concentration acids
Ageing
Ozone
-30 ÷ +120 °C