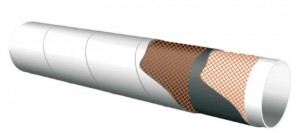 APPLICATION:
Drain of water and organic liquids within ships. Its extremely flexible structure allows very good bending radius and therefore makes it suitable to narrow spaces and difficult passage.
STRUCTURE:
Sub-layer: black butyl rubber.
Inserts: high tenacity synthetic textile with built-in iron spiral.
Cover: grey EPDM rubber, atmospheric agents, ageing and ozone resistant.
Surface: smooth.
PACKAGING:
transparent polyethylene
WORKING TEMPERATURE:
-40 °C ÷ +120 °C
Marking: EUROCORD® SANITARI/WC - WATER SUCTION DELIVERY