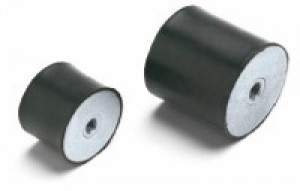 Characteristics:

Cylindrical rubber, rubber metal anti-vibration mount with two threaded blind hole pressed on washers galvanized subsequently.


Material:
Rubber 60±5 SH A
On Request:
It is possible to produce anti-vibration mounts with various characteris-tics, i.e. with nuts of various size, Hardness and type of compound.
Applications:
Agricultural machines, electric motors, engine generators, engines, compressors, air conditioning systems, machine tools.