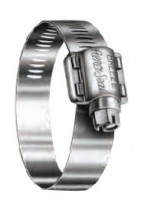 Characteristics:
Bands produced with punched tape that in combination with the design of the screw holding drawer "quadra-lock" ensure optimal band tensioning in order to avoid any possible loosening in case of strong stresses.
The saddle of the screw holding drawer is of particularly reduced dimensions in order to ensure complete adherence of band to pipe circumference.
In this way any ovalisation in case of reduced diameters are avoided (pipes with diameter lower than 30 mm).
Material:
W2, W4.
Application:
These bands are used in the production of engine vehicles, in the nautical, industrial, chemical and food field.


8 mm wrench hex. head screw