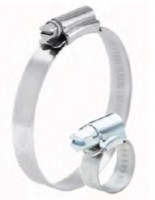 Characteristics:
This band is produced in compliance with BS5315 Standard and carries on it the Kitemark approved mark.
This type of band is produced with high technology automatic machines and is made of glossy galvanized steel.
It is characterized by an high clamping torque that guarantees its leak free tightness together with corrosion resistance of at least three times higher than normal galvanized steel.
It is produced through an high quality control process.
Material:
Band and drawer high corrosion resistant –Aluzink– with additional polishing treatment and galvanized steel screw.