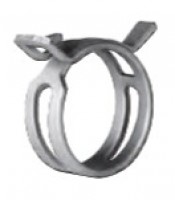 Characteristics:
The spring-type fastening bands are suitable for all applications subject to frequent changes in temperature; their clamping action is dynamic and constant thus avoiding leakage risk.
Material:
C75S.
High carbon steel for springs.
Hand pliers for small size diameters.


Hand pliers suitable to all nominal diameters.
The integrated safety lever sets plier in position.