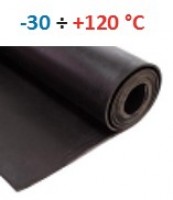 Application and use :
High EPDM content.
It has very good physical-mechanical characteristics.
Good resistance to heat, atmospheric agents, sea water and ageing.
Suitable to external use as it has very good resistance to ozone and temperature ranges.
It is suggested in contact with acids and solvents having medium and low concentration.
-30 ÷ +120 °C
Physical-Mechanical
Atmospheric Agents
High Temperatures
Ageing
Acids,Solvents
Ozone
Sea water
External uses