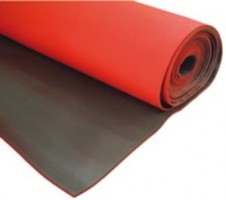 Application and use:
It is exclusively used to coat centrifugal chambers and hoppers.
It is supplied with one side made of raw rubber for the cold vulcanizing process by means of specific solution that creates an exceptional rubber-metal attachment.
The excellent resistance to wear of the rubber allows it to withstand heavy stress that it undergoes during the working process.
-25 ÷ +80 °C
Cold vulcanizing process