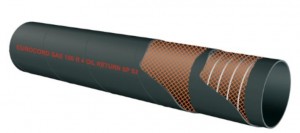 APPLICATION:
Oil delivery and suction in hydraulic plants. Particularly used in agriculture and industrial fields.
It is fitted and plugged on agricultural machines as well as on industrial machines, presses.
STRUCTURE:
Sub-layer: NBR/SBR black rubber resistant to hydraulic oils.
Inserts : metal spiral with synthetic textile inserts.
Cover: SBR rubber resistant to ozone and atmospheric agents.
Surface: smooth with textile finish
PACKAGING
Packing: red polyethylene
WORKING TEMPERATURE:
-40 °C ÷ +80 °C
Marking: EUROCORD® TYPE SAE 100R4 - OIL RETURN SP
Norms: ISO 1307