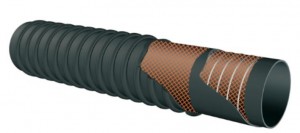 APPLICATION:
Delivery and suction of mineral oils, diesel fuel, petrol and fuels.
Particularly suitable for loading and unloading road/rail tankers in filling stations and refineries.
STRUCTURE:
Sub-layer: black NBR rubber resistant to fuels with aromatic content up to 50%.
Inserts: built-in metal spiral with synthetic textile inserts and copper wire to guarantee electric static dissipation.
Cover: NBR/SBR rubber resistant to fuels, ozone and atmospheric agents.
Surface: corrugated with textile finish.
PACKAGING:
Packing: red polyethylene
WORKING TEMPERATURE:
-35 °C ÷ +70 °C
Marking: EUROCORD® OIL SUCTION DELIVERY HOSE W.P. 5 bar
Norms: ISO 1307