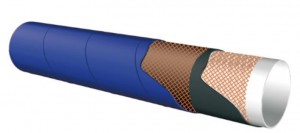 APPLICATION:
Suitable to passage of steam and hot water. Usually used in cleaning of warehouses, slaughterhouses or any working environment.
Its colored coating makes it stain-resistant.
STRUCTURE:
Sub-layer: EPDM white rubber, food quality in compliance with Bg VV XXI:2002 (kat. 2), FDA (CFR 21 § 177.2600) Standard , odourless, suitable for food liquids, detergents and steam passage.
Inserts :high tenacity synthetic textiles.
Cover: blue EPDM rubber with textile finish resistant to abrasion, atmospheric agents, ageing and ozone.
Surface: smooth with textile finish.
PACKAGING:
Packing: blue polyethylene
WORKING TEMPERATURE:
-40 °C ÷ +125 °C, steam up to 165 °C
Marking: EUROCORD® CLEANING STEAM 165 °C ACCORDING FDA
Norms : ISO 1307