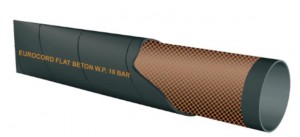 APPLICATION:
Pressure delivery of cement and dry materials, humid sand, liquid mortars, limestones and in general abrasive products of small grain size.
Used for loading and unloading by dropping or by pneumatic system of storage silos and tanker trucks.
STRUCTURE:
Sub-layer: smooth, black conducve an-abrasive R <
5x10 Ω/m rubber
Inserts: High tensile synthec plies.
Cover: black anstac rubber resistant to abrasion and
atmospheric agents..
Surface: smooth with texle finish.
PACKAGING:
Packing: transparent polyethylene
WORKING TEMPERATURE:
-40 °C ÷ +70 °C
Marking: EUROCORD® CEMENTO HD W.P. 10 bar
Norms: ISO 1307