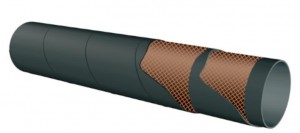 APPLICATION:
For pneumatic or electric vibrators, for leveling concrete shuttering. The rubber adopted gives this hose exceptional tensile elongation characteristics. Its particularly thickened structure allows to avoid creation of cusps also in cases of very narrow bending radius.
STRUCTURE:
Sub-layer: black NR/SBR rubber.
Inserts: high resistance synthetic textile.
Cover: black NR/SBR rubber resistant to abrasion, atmospheric agents and ageing.
Surface: smooth with textile finish.
PACKAGING:
yellow polyethylene
WORKING TEMPERATURE:
-40 °C ÷ +70 °C
Norms: ISO 1307