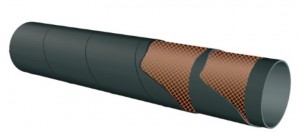 APPLICATION:
Conveyance of diesel fuels and unleaded petrol in watercrafts and recreational ships. Particularly used for heavy-duty applications. Its main features are lightweight and flexibility. In compliance with EN ISO 7840-A1 - 1994. R.I.NA and LLOYD'S Standard
STRUCTURE:
Sub-layer: smooth black (NBR) rubber resistant to fuels with aromatic content up to 50%.
Inserts: high tenacity synthetic textiles.
Cover: black (CR/NBR) rubber resistant to lubricants, fuels, abrasion, sea water and atmospheric agents.
Surface: smooth with textile finish.
PACKAGING:
blue polyethylene
WORKING TEMPERATURE:
-35 °C ÷ +80 °C
Marking: EUROCORD® CARBOMARINE ISO 7840 - A1 - CE - RI.NA NO... - YEAR - FUEL HOSE SAE J 1527:2004 USCG R1 - LLOYD'S APROVED CERT. NR. 02/00030