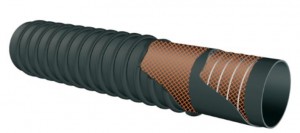 APPLICATION:
Drain of exhaust gas and cooling heat exchangers on vessels and ships. Its particular structure makes it very flexible and with very good bending radius. R.I.NA and LLOYD'S approved hose.
STRUCTURE:
Sub-layer: smooth in black (EPDM) rubber resistant to exhaust gas and sea water.
Inserts: built-in metal spiral and high tenacity synthetic textiles.
Cover: black (EPDM) rubber , abrasion, seawater and atmospheric agents resistant.
Surface: corrugated with textile finish.
PACKAGING:
blue polyethylene
WORKING TEMPERATURE:
-25 °C ÷ +100 °C ( max. peaks 115 °C)
Marking: EUROCORD® MARINGAS/SP- RI.NA NO... SAE J 2006:03 - LLOYD'S APROVED CERT. NR. 02/00029.