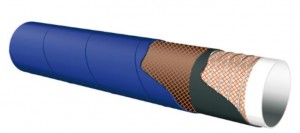 APPLICATION:
Passage of hot steam and water. Usually used for washing warehouse, slaughterhouses or any working environment.
Its metal spiral allows for very good bending radius. Its blue cover makes it stain-resistant.
STRUCTURE:
Sub-layer: EPDM white rubber, food quality according to Bg VV XXI:2002 (kat. 2), FDA (CFR 21 § 177.2600) Standard, odourless, suitable for passage of food liquids, detergents and steam.
Inserts: high tenacity synthetic textiles, metal spiral.
Cover: textile finish blue EPDM rubber, abrasion, atmospheric agents, ageing and ozone resistant.
Surface: smooth with textile finish.
PACKAGING:
blue polyethylene
WORKING TEMPERATURE:
-35 °C ÷ +120 °C, steam up to 164 °C