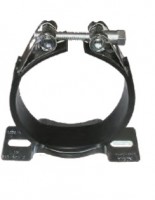 Characteristics:
Typical band complete with wall fitting bracket and anti-vibration rubber profile.
Its use is recommended to secure pipes or containers to the wall in a simple, quick and safe way. It is only available for diameters greater than 130 mm.
Tape width 30 mm. This solution is also available with bracket without rubber profile.