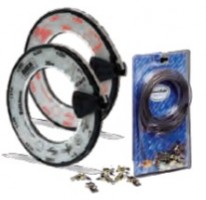 Characteristics:
Instant solution to clamp. Immediate possibility to obtain by yourselves the band that you need only by using the kit components.
Ideal for servicing and maintenance, the product is supplied in an handy dispenser box containing a tape roll and relevant Tip-up carriage blocks.
The tape is in stainless steel available in the 9 mm or 12 mm width. Carriages and tape cannot be used with STRIP STEEL.
Materials:
W2 INOX 430.