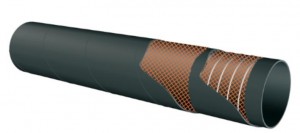 APPLICATION:
Delivery and suction of hot water. It can be connected as flexible hose for heat and autoclave pumps.
STRUCTURE:
Sub-layer: EPDM black rubber.
Inserts: high tenacity synthetic textiles with metal spiral.
Cover: black EPDM rubber resistant to heat, atmospheric agents and abrasion.
Surface: smooth with textile finish.
PACKAGING:
Packing: purple polyethylene.
WORKING TEMPERATURE:
-40 °C ÷ +125 °C
Norms: ISO 1307