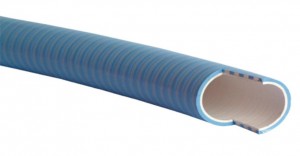 APPLICATION:
Specifically designed as flexible hose for sewage drain in boats and caravans toilets. Due to its special material it represents a valid alternative to the rubber hose thus offering the following advantages: greater flexibility and lightweight, higher cost efficiency, higher odor-free levels.
STRUCTURE:
PVC internal compound with new and special molecular structure that prevents the unpleasant smell spread of sewage drainage in the toilets.
Cover with special stabilized compound to resist the deterioration caused by ozone and UV rays.
Shockproof and ultra-flexible steel spiral.
Colour: white sub-layer and blue cover.
WORKING TEMPERATURE:
-15°C up to +65°C